5 DAYS 4 NIGHTS PACKAGE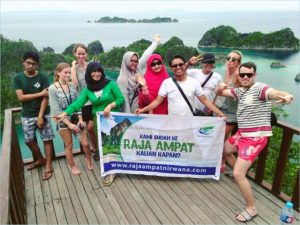 Raja Ampat Tour to Wayag & Piaynemo
5 Days 4 Nights
Price:
IDR 6.775.000 / person : lodging at a cottage / homestay (rooms equipped with fan & shared bathroom).
IDR 9.750.000 / person : lodging at a resort / villa (air-conditioned room and bathroom inside).
IDR 10.850.000 / person : lodging at a resort / villa (sea-view room, air-conditioned, and bathroom inside).
Tour participants will be awaited by our staff in Pelabuhan Rakyat Sorong (harbour) and will be given ferry tickets to Waisai. In Waisai harbor, tour participants will be picked up by our staff.
Destinations:
Visit the Kabui bay
Visit the Pencil stone
See the ancient rock paintings
Enjoy the view of the Piaynemo islands (climbing 320 steps to the balcony is a must)
Visit Telaga Bintang/Star Lagoon (climbing the rocky hill is a must)
Snorkel in the Arborek area
Snorkel in the Yenbuba area
Visit Pasir Timbul (a cluster of white sand in the middle of the sea)
Visit Friwen island/beach or snorkeling in the Friwen Wall area
Visiting Selpele village
Visiting Conservation station
Enjoy the view of beautiful Wayag Islands #1 & #2 (climbing the rocky hill is a must)
Visiting Mayalibit bay
See the Penis Stone
Visiting Lapintol village
Visiting Saonek village
Package Includes:
Two-way ferry ticket Sorong-Waisai
Lodging
3 meals a day
Speedboat rental + life jacket
Snorkeling equipment rental
Snacks & drinks on the boat
Tour guide
Entrance fee/donation for the attraction (islands, snorkeling/diving areas, and villages)
Photos/documentation (underwater camera available)
Accident insurance
T-shirts.
Package does not include:
Airfare
Taxi/motorcycle taxi to and from the port
Raja Ampat entry permit fee (PIN): Indonesia citizens: IDR 500,000 & Foreigners: Rp 1,000,000.
Tip for tour guide and speedboat crew (any amount will do)
Personal expenses (eg: buying cigarettes, gifts, etc)
*
How to Take Our Tours
Contact us via WhatsApp +62-812-8888-2991 to book the tour package of your choice.
Send a copy of your ID, for your insurance needs while in Raja Ampat.
Payment
Tour participants pay the down payment (50%) with a bank transfer to our account. Should there be a cancellation from you, we will not refund the down payment.
You can pay the rest of the payment (50%) when you are already in Raja Ampat, in cash or with a bank transfer to our account.
International guests can make a transfer with Western Union, MoneyGram, or remittance services.
Before making a reservation at Raja Ampat Nirwana, please read our Terms and Conditions carefully, as they constitute a contract agreement between Raja Ampat Nirwana and you from the time the booking is made.