ABOUT US
Our History
Raja Ampat Nirwana was founded by a husband and a wife who have a mission to introduce the beauty of Indonesia to the world.
They fell in love with the beauty of Raja Ampat. The idea of founding a tours and travel business cross their minds when they made friends with the local people of Raja Ampat. They then bought a speedboat as a start. Their experiences in exploring Raja Ampat made them know what to recommend and not recommend to guests.
What Our Name Means
Nirwana is an Indonesian word similar to 'Nirvana' in English, meaning 'Paradise'. It is chosen as our company name because we believe it is the right name on account of Raja Ampat's beauty which is regarded as 'the last paradise on earth'.
What Our Logo Means
Our logo is the symbol of our company.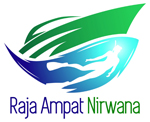 On top is a picture of a boat, meaning a journey or an adventure.
Below the boat is the blue wave which resembles a fish. All this illustrates the life and the beauty of underwater world.
A picture of a woman swimming represents water recreation and water sports as the main activities of tourists in Raja Ampat.
The green color symbolizes the beginning of life, nature, and energy.
The blue color symbolizes strength, trust, loyalty, and cleverness.
Overall, the color combination of our logo illustrates the spectacular, beautiful scenery of Raja Ampat dominated by green, blue, and turquoise.