THE MISOOL ISLANDS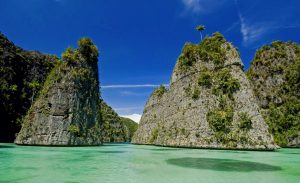 The Misool Islands is one of the four major islands in the Raja Ampat archipelago.
Misool lies in the north shore of the main island Papua, bordering Seram Sea. These waters are crossed by big sea creatures, including whales.
In Misool, you can swim with jellyfish. Don't worry, jellyfish in Misool is not a dangerous species nor can cause an itchy rash. Worldwide, only 13 jellyfish-lakes are known and they are only found in Indonesia, Vietnam, and Palau.
To get to Misool, ferry is only scheduled twice a week.