THE PIAYNEMO ISLANDS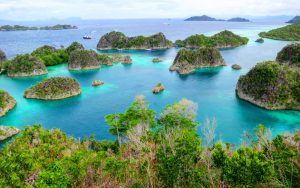 The Pianemo Islands is often called as 'Little Wayag'. It is located in the west of Gam Island.
A return journey (Waisai-Pianemo-Waisai) is about 120 km. Due to the shorter distance, trips to Pianemo are often more offered in Raja Ampat tour packages than trips to Wayag.
The Pianemo Islands can be seen at a balcony on the top of a rocky hill. To get to the balcony, tourists have to climb 350 wooden steps.